A hub of multinational businesses and startups, Singapore attracts many leisure tourists as well. This country is a whole nation, a state and a city – all rolled into one. The tiny island may seem really small on the world map but it packs quite a punch. But where is Singapore located?
Before we get to that question, let us get to know what makes Singapore desirable amongst Indians. It is a well-known fact that this country is very close to India and it hardly takes a few hours to fly down there. The relative affordability of Singapore (as compared to European destinations) only adds to this.
Where is Singapore Situated?
Singapore is located in Asia. It is a sovereign state that is administered by a central government. Officially called the Republic of Singapore, this city-state is situated just off the Malay Peninsula's southern tip.
Singapore is also an island and part of maritime Southeast Asia. A little known fact about Singapore is that it is not just a single island but consists of an outlying islet and 63 islets and satellite islands apart from the main island – Singapore.
Located in the northern hemisphere, Singapore is just 1 degree to the north of the equator and has an equatorial climate largely which is typical of tropical rainforest regions. The Strait of Malacca borders this country in its west while the Straits of Johor are to its north. To the east of Singapore is the South China Sea, whereas the Singapore Strait is to its south. All of these water bodies are part of the Indian Ocean.
Singapore occupies a total area of 733.1 square km or 283.1 square miles, making it the 176th nation in the hierarchy of size. Singapore follows the Singapore Standard Time (SST) or Singapore Time (SGT) which is 8 hours ahead of the Coordinated Universal Time (UTC+8).
Singapore Map from India
Singapore lies towards India's southeast and is at least 3,170 km away from it as per the average aerial distance. While both India and Singapore are in the Indian Ocean, their distance by sea is almost 1,891 nautical miles when measured from the Port of Chennai to the Port of Singapore. It is also possible to take the road from India to Singapore which measures about 3,535 km if you consider the shortest distance.
How to Reach Singapore from India
Flights are the most popular mode of transportation to Singapore from India. The shortest non-stop flight takes 4 hours and 25 minutes and one-way tickets sell from INR 15,000 per person for economy class.
Changi International Airport is the main airport of Singapore and also one of the largest ones in the world. Singapore Airport is served by carriers such as Jetstar Asia, Air India – the national carrier of India, Emirates, IndiGo, Qantas, Air-India Express, SilkAir, Singapore Airlines – the national carrier of Singapore, Lufthansa, Vistara, ANA (All Nippon Airways), flydubai, Etihad, Cathay Pacific, Malaysia Airlines, Biman Bangladesh Airlines and Air New Zealand.
Cruises to Singapore are not too frequent. However, in January 2023, Crystal Cruises has a 15-day voyage scheduled from India to Singapore. Only a handful of Singapore vacation packages from India are offering tickets to this luxury cruise. The itinerary includes halts in Sri Lanka, Myanmar, Thailand and Malaysia as well.
For a driving holiday from India to Singapore, you will need to take the India-Myanmar-Thailand (IMT) Highway. Crossing over to Malaysia from Thailand will not be an issue as these two countries are connected by road. To finally make it to Singapore, you will have to take one of the bridges that connect Malaysia to Singapore. It will take at least 5 days to complete such a journey.
Please note that for a road trip, you will need to ensure you have visas for all the countries along the way. Additionally, you will need an international driving permit (IDP) along with your India license. Some nations also require additional passes and stickers for toll payment purposes.
The Best Time to Visit Singapore from India
One can comfortably explore Singapore at any time of the year. However, December to June is more convenient as that is the dry season on this island. November happens to be the wettest month, so you may avoid that in case you are not fond of rain.
For more hours of sunshine and low humidity, February to April is a good time. However, April is the warmest month of the year. Conversely, it is the coldest in January – but very pleasant when compared to continental winters.
June and July make up the shoulder season when the weather is not too bad and the hotels are reasonably cheaper as compared to the rest of the year. Singapore ranks quite high on real estate rates. This is why hotels can be quite prohibitive. However, with preplanning and discounts, you can hope to save some money on your stay.
Is Singapore Good for Honeymoon?
Even though Singapore is famous for being a commercial and financial hub in Asia, it has much to offer honeymooners and travellers in general. There are plenty of indoor activities to do in Singapore as even some gardens are built within glass walls here.
Gardens by the Bay is an excellent choice for honeymooners looking for various spots for their couple photos. The entire complex has supertrees and skybridges that connect one supertree to another. Apart from manmade constructions, you will also find a plethora of botanical plants and colourful flowers here.
To infuse some romance into your relationship, cruise along Clark Quay. Alternatively, you can stroll through Fort Canning Park or go window shopping in Chinatown. While Orchard Road will give you a run for your money with its luxury brands, you can always visit Little India if you wish to haggle for your purchase.
Marina Bay Sands is an excellent destination for honeymooners to party all night or just sip on some craft cocktails in the rooftop bar. The cityscape from up there is swoon-worthy for sure! You can even browse through the casino and try your hand at Black Jack, roulette or any other game of your choice.
Activities and Things to do in Singapore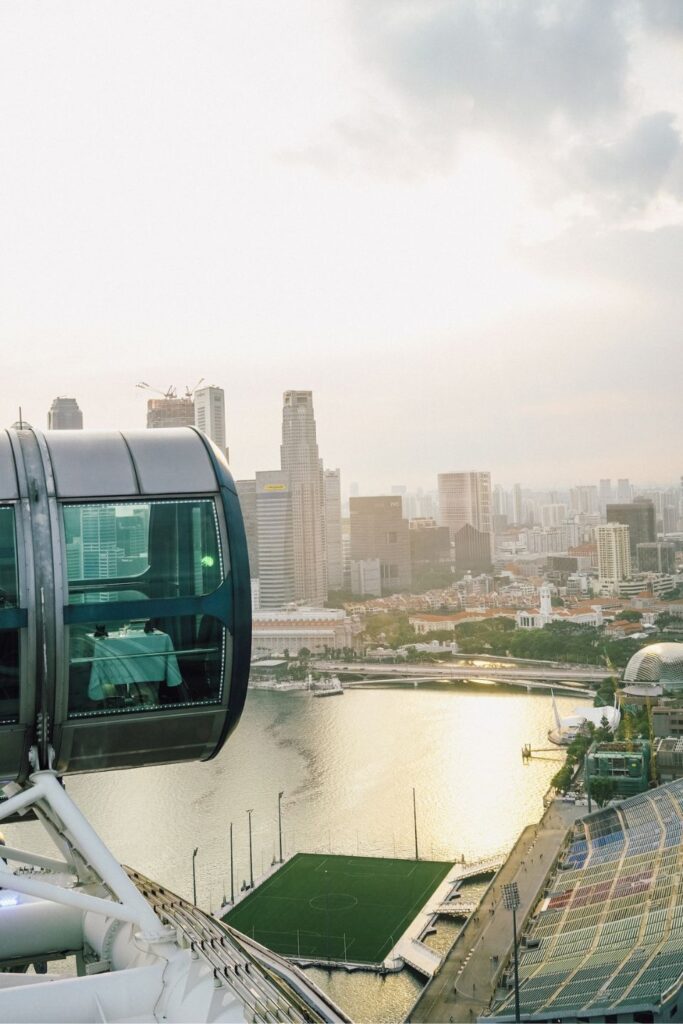 If you are an animal lover, look for Singapore tour packages that include visits to Sentosa Island which is full of events that have close interactions with domesticated animals. You will be able to have breakfast with an orangutan or watch a dolphin show during sunset.
Singapore Zoo is an enigma in itself. With countless species of birds, mammals, reptiles, fish, insects and amphibians, this place will enthrall you. You will be able to watch penguins in this tropical island, thanks to hermetically cooled enclosures that mimic Antarctic temperatures.
This is where you will have the opportunity to be kissed by a sea lion or watch a giant python slither in and out of water. You can even get clicked with a snake coiled around your body. To watch nocturnal animals, get on the night safari – a toy-train that takes you around an emulated jungle for a glimpse of bears, owls and panthers.
Jurong Bird Park is a haven for birding enthusiasts. Not only will you find numerous birds flying away in a netted enclosure, but you will also be able to volunteer for shows where eagles, vultures or parrots are the stars. For water babies, the SEA Aquarium is a gorgeous glass tunnel that lets you gaze at a myriad of aquatic creatures.
There are many water sport activities that you can pursue as well. Kayaking, scuba diving, reverse bungee jumping and stand-up paddle boating are some adventure activities that you might enjoy with your partner.
All-inclusive India to Singapore Vacation Packages
Singapore vacation packages are incomplete without a stop at the gigantic statue of the Merlion – a mythical creature which is a cross between a mermaid and a lion. This country is also home to Universal Studios. This is a must-visit theme park, whether you are into movies or not.
Singapore also lets you try indoor skydiving in case you are too scared to try the real thing and fear for life. If you prefer racing, F1 is another option. If you would rather walk and enjoy natural beauty, do the treetop walk at MacRitchie Reservoir. Chestnut Nature Park and Mount Faber Park are also great hiking places.
Singapore Cuisine
Before you leave Singapore, remember to delve into its cuisine. This multi-ethnic, multicultural and cosmopolitan city has contributed to the evolution of its own kind of street food which is a mix of Malaysian, Chinese, Indian and Western flavors.
Fill your plates with some Hainanese chicken rice, kaya toast (with coconut jam), roti prata (Indian-inspired flatbread), chilli crab and laksa (Malaysian coconut milk soup with noodles and shrimp).
When you know where Singapore is located, it is best not to keep your travel plans waiting any longer. Pick up your phone and make your bookings right away because you do not need any excuses to travel to this Asian island. It will not even take a week to see most of the country, but you will remember every moment spent here.